L'ARÉNA DE SENNETERRE
SENNETERRE,QC CANADA
AUGUST 3,1984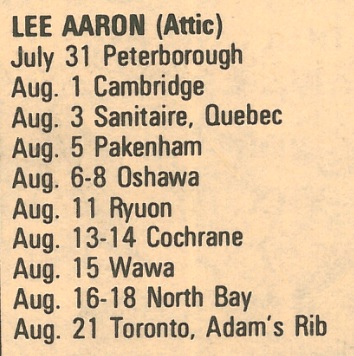 Ad from Music Express

Here's Guy Perron's (lead singer of Wild Wind) memories of the show:


I remember very well this show... it was in a hockey arena in the City of Senneterre in the Abitibi region, province of Quebec. 1984 August 3rd is probably right. That evening, Wild Wind (our band) shared the stage with Lee Aaron's band.

I remember that our sound technician was unable to perform his duties that night. So Lee Aaron's sound technicians came to the rescue and did our sound so that Wild Wind could perform our show. We opened our set list with Fast as a shark (Accept)



Here's a clip of Wild Wind performing Fast as a Shark filmed in 1984 in Maniwaki,PQ.

I also remember before the show, I was walking in the arena to my dressing room and by mistake entered Lee's dressing room. Upon seeing Lee, I said "oups sorry" and felt "so shy" and walked away immediately...Lee was gorgeous, beautiful woman! Oh boy, lol

The only regret, is that both bands did not had a chance to meet and talk before and after the show. And take some pictures. And go party, as there was a private party for both bands by the promoter.

Lots of pictures were taken by a professional photographer that night during both shows, but never had a chance to see them. I remember there was a big crowd in the arena, and many North American (Algonquin) natives standing in the first rows shaking their heads with arms in the air!

So here was my story, and thank you again!

Guy




Thanks to Guy Perron for the info and the story.